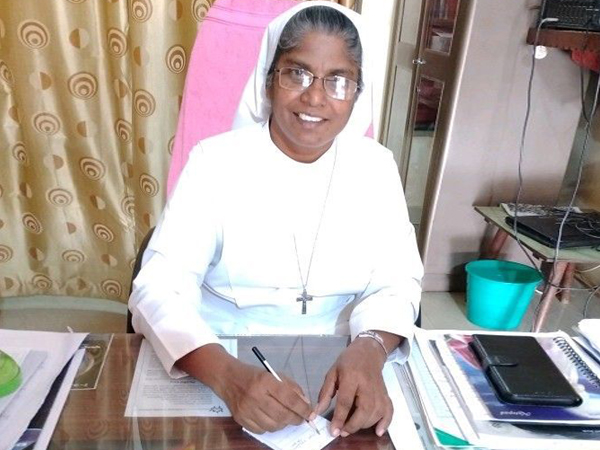 Sr. Lucy Michael FMA
Dear parents, students and well wishers,
Greetings and warm wishes from Auxilium School, Kottiyam.
At the outset, let me thank you for your prodigious support and sincere cooperation in making the academic year 2016 -2017 a remarkable one. Needless to say, parental support is a sine qua non factor behind every success story of our institution. In reciprocation, we strive all nerves to understand and cater to the needs of the parents and their wards.
Felicity fills my heart in launching a new website 'www.auxiliumschool kottiyam.com' that would pave way for our commitment to bridge the gap of accessibility of information and inter alia, bear mute testimony to the unceasing efforts of 'Auxilium' to adopt novel trends in its systems and processes. This endeavour is the result of a process of growth and maturation triggered by the net work of interaction among all the stake holders. Communication establishes relationships and in turn, relationships determine communication. Education and communication were rooted in all the actions of our Founders. Don Bosco and Mother Mazzarello were effective communicators of their time.
Don Bosco was a 'born' communicator and the house at Valdocco was a welcome place, designed for dynamic interaction with the surrounding environment, to establish a continual exchange of ideas not only of information and of values, but also of energy, goods and persons. For Don Bosco youth were a ' gift of predilection ' and so was always focused on value centred innovativeness, creativity and originality in keeping with time.
Mother Mazzarello had a rare ability to establish authentic relationships and understand persons and situations. There reigned in the 'Community of Mornese', simplicity, serenity, loving relationships and a familial atmosphere. 'Mornese' was also an open door to everyone and Mother Mazzarello enlarged her heart to the horizons of the entire world.
For youngsters, both Don Bosco and Mother Mazzarello were multifaceted : a father/mother, teacher and friend. They were loving witnesses of God's love. Following the footsteps of Don Bosco and Mother Mazzarello, let us praise God for the gifts within us; let us have the courage to write a story of our own commitment as parents and educators.
We are living in an age of accelerating changes and an era of globalization. The youth of today are children of an electronic era, contemporaries of a net age and future citizens of a globalized country. All these throw a volley of challenges to us, the modern educators. As communicators working with young people, we ought to be authentic in our tasks while traversing through education, communication and evangelization. We strive all nerves to equip the students with knowledge, acquaint them with novel ideas and thoughts while broadening their minds to selectively accept and use modern means of communication to make them refined and civilized. This new website is a contribution to that way forward. Much have we traversed, many fetters broken and still march on catering to the educational needs of our students :
"….the dream of yesterday
….is the hope of today.
And the reality of tomorrow."
With best regards
Sr. Lucy Michael FMA